Mr Robert Brown
<![if !vml]>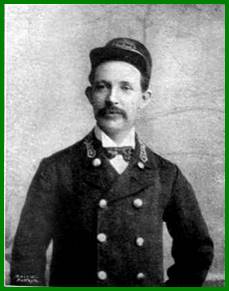 <![endif]>
The 1901 Irish Census shows that when living at Dundonald Station Robert Brown was 33 years old, married with 3 children. He was also author of a small book named "Poems by a Railway Lad" printed by W& G Baird Belfast in 1911. Prior to coming to Dundonald he had been station master at Neill's Hill. Included in his book is a poem entitled, "A reply to the compliant of the dullness at Neill's Hill Station."
OCTOBER
With sunless skies, earth matron looks,
    And languid lies October;
Beneath a load of yellow fruits,
    With face both wane and sober.
Yet though the sun with clouded face
    Does thus refrain from greeting,
There are true hearts within this place
    With warm affection beating.
Their love-lit eyes to light indeed
    That never once grows hazy,
And inward with electric speed
    Would set dull hearts half crazy.
Thro' autumn's haze and winter's snow
    An endless taper's burning
Of love, to keep all hearts aglow,
    As seasons still keep turning.